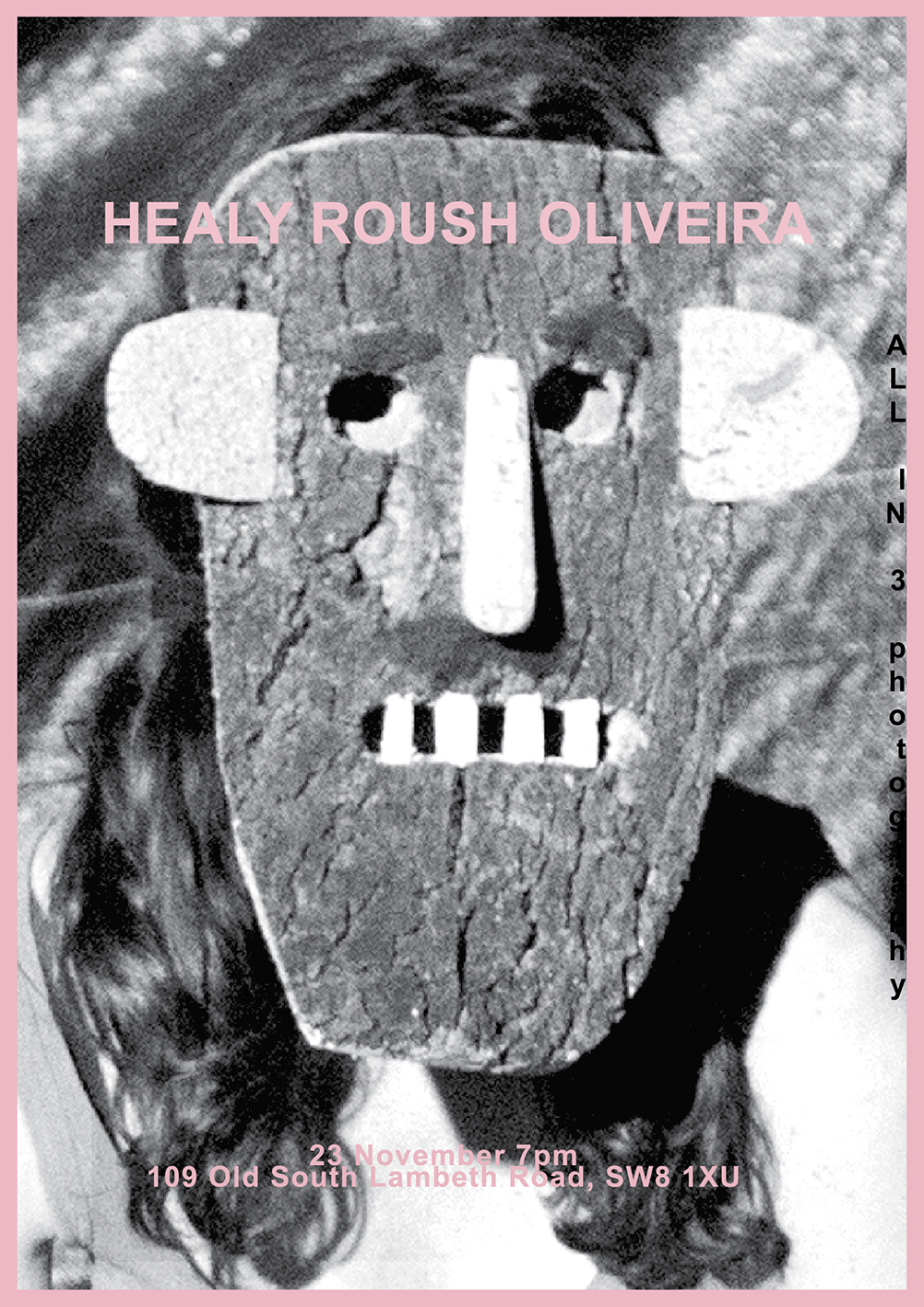 HEALY ROUSH OLIVEIRA 23 NOV 7PM TILL LATE |
ADRESS: 109 OLD SOUTH LAMBETH ROAD SW8 1XU [link opens in google maps]
nearest tube stations: Vauxhall (11m walk) and Stockwell (10m walk)
Dearest,
The third show & party in the a l l i n series is happening this Saturday!
This time my guests are two London based photographers who use and explore the photobook as the favourite format for their work.
paula roush mostly through msdm studio is a well established, leading practitioner and lecturer in the field, the author of mesmerising "photobookworks" and projects using both her own images and what she has termed "orphan images". Without too much exaggeration, paula is one of the most knowleageable and exciting photoartists working with printed matter. In the show she will present images from her series 'Paintball Field', which juxtaposes old masks and rituals originary from the now desertified interior villages of central Portugal and contemporary forms of entertainment (paula's image on the invite).
Pippa Healey is a relatively (hyper active) newcomer to the photography scene who has very quickly made an impression with her zines, which have been awarded with several prizes and are hold by important collections. Dealing with the difficult themes of grief, violence and loss, her subtle, pensive images easily take us on our own journeys to the moments we rather not remember to provide not grief but a surprising relief through the sharing of feelings which are mostly unspeakable. On Saturday she will present an installation based on her work titled 'Don't Come Looking for Me', which deals with memory and the return of the repressed.
Because 3 is a magic number, I will be presenting a mural titled 'One Month', where i turn the camera inwards by surveilling an entrenched everyday habit.
Come for an evening and night of music, food, drink around photography and more.
All in, all welcome!
best,Andreia
----------------------------------------------
Andreia Alves de Oliveira www.andreiaoliveira.net