BLACKCHAPEL FLANEUSE
(WHY ON EARTH WOULD I WANT TO BE A FLANEUSE IF I CAN BE A GLANEUSE?)
Photographic silkprints, duo-tone, 150 cm x 50 cm
exhibition WE STAND TOGETHER
Women's Photographs of Women 1970s-2020
With: Sarah Ainslie, Julie Cook, Lucinda Douglas-Menzies, Rachel Ferriman, Chris Kelly, Daniele Lamarche, Jenny Lewis, Marketa Luskacova, Patricia Niven, Moyra Peralta, Tamara Rabea Stoll, Hussina Raja, paula roush.
Curated by Sarah Ainslie
Part of Women's History Month
The Brady Arts Centre
London, March 2-28 2020
This photographic collage inscribes walking and the collecting  of images in a temporal space construction within Whitechapel's market when I lived in a nearby building and would come by in the afternoons, with my camera, the stalls boasting with women strolling in the hijabs' market. I would wonder around, photographing and feeling this might be what a female flanerie looks like, women both looking at each other and being looked at, within the protected veil of the hijab. Are we the Whitechapel invIsible flauneuses, I asked myself?
I saw a gendered appropriation of public space,  a playful subversiveness of  the dark Whitechapel wound culture which is still so wrongly attuned to the celebration of Jack the Ripper's crimes.  This unique way of sharing the urban realm with my sisters required a revision of the term used for the male urban flaneur, to take it further than a simple feminisation of the word: "In the end after all the discussion about women's access to the practice of flanerie: Why on earth would any woman want to be a flaneur?"  asks Janet Wolff (in Gender and the Haunting of Cities; or, the Retirement of the Flâneur (2006).  
If we understand the city itself as a narrative device we may begin to entertain other counter-narratives - to confront the shadows and obscurities, the dark silences and the ghosts. Agnes Varda, used the term glaneuse: 'to glean' is collect what is left behind after a harvest. In the film Les Glaneurs et La Glaneuse (The Gleaners and I, 2001), Agnes looks at herself as a gleaner: cinematography (and photography, in my case) is as much gleaning as picking up a piece of fruit to eat. Why on earth would I want to be a flaneuse if I can be a glaneuse?
Spitalfields Life by the gentle author: East End Women Photographers
Accordeon book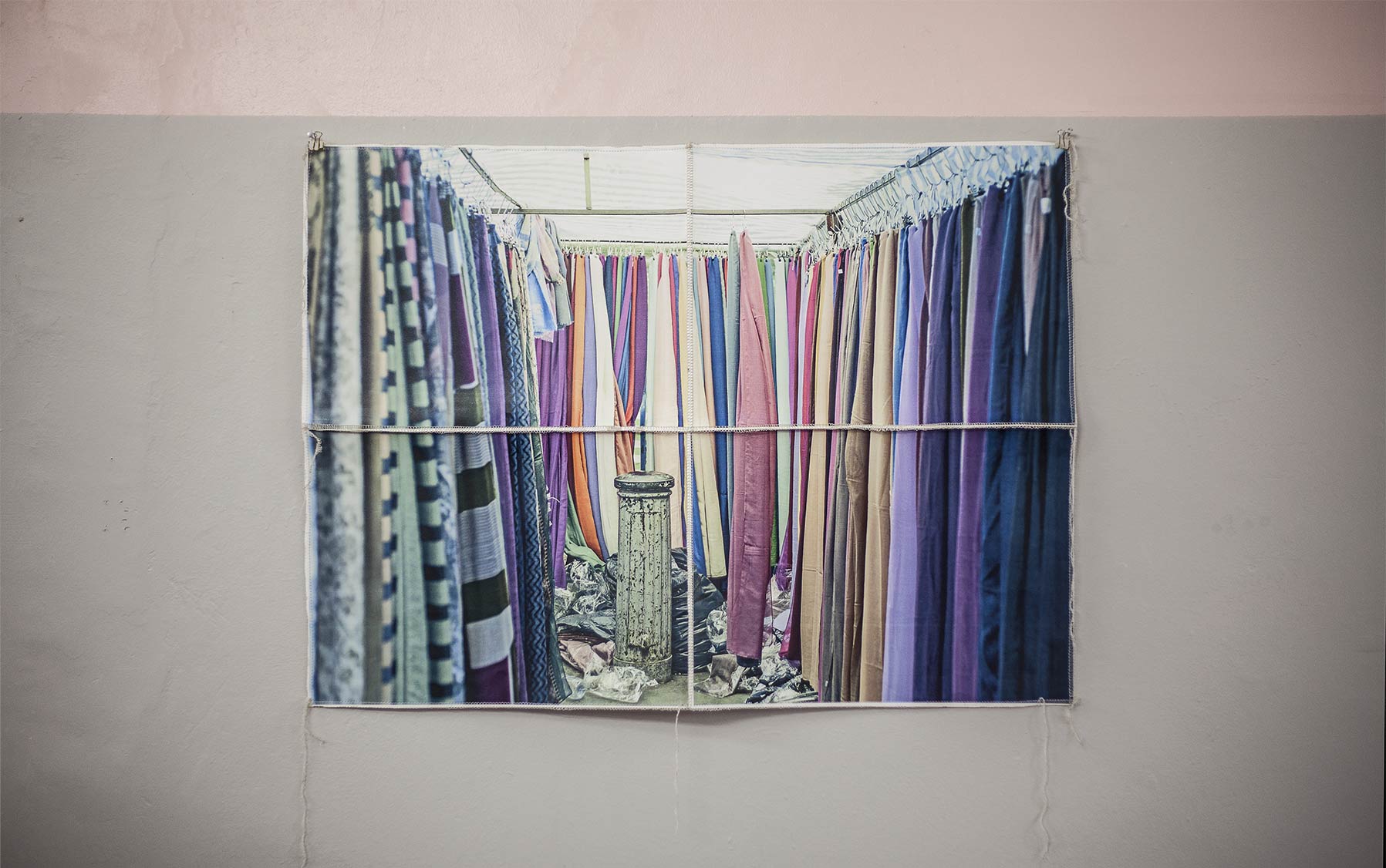 BLACKCHAPEL (Hijabs Hang)
4 toner prints sewn with overlock stitch
82 cm x 58 cm
msdm studio