Temporary public artwork with Coleman Project Space in the site of former Biscuit town, Bermondsey entitled SOS:OK Emergency Biscuit, which allowed former workers of the Biscuit Factory to imagine and design a new biscuit to represent their neighborhood.
Bermondsey, in south-east London, was once affectionately known as Biscuit Town. Home to some of the largest biscuit factories in the country, it provided employment to generations of local families.
Now it's a very different story. The biscuit factories have closed, and many of their former employees are unemployed. The only businesses that come into Bermondsey now are the large property developers buying up old factories and turning them into gated residences for well-paid workers at nearby Canary Wharf.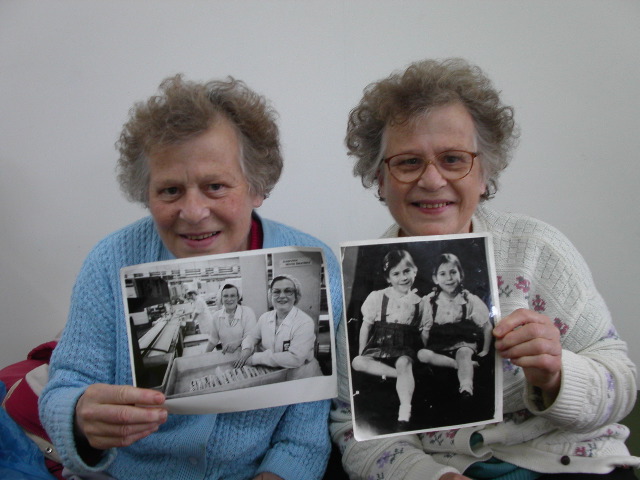 MEMORY FACTORY
First part of the project consisted in setting up a Memory factory in place of the former Peek Frean's Biscuit Factory, announced as 'a reopening of the factory for one week only as a memory factory.' The workshops investigated the factory's history,gathering archive material. Peek Frean former workers were invited to come to contribute their memories of Biscuit Town. They arrived with memorabilia which filled the project space turning it into a display of selected photos, clothing, gifts, books, films, sound samples and journal entries that mapped the space of memory.
SOS:OK BISCUIT
A new emergency biscuit, cooked to a specially designated recipe, was created to be distributed to visitors to the gallery and on the streets of Bermondsey. Crates of biscuits were distributed by horse and cart on Tower Bridge Road and on the Blue. The exercise was partly a reference to a relief operation of 1870 during the Franco-Prussian war. When the prussians lifted their siege of Paris, Peek Freans supplied thousands of biscuits to the starving citizens.
The exhibition at the Coleman ProjectSpace was staged as a relief operation, also a response to the hunger crisis which comprises an international emergency. 
RELATED PUBLICATION: SOS:OK KIT- BISCUIT + GUIDE
PUBLIC SERVICES
SOS:OK was featured in the exhibition Public Services along with the work of Marjetica Potrč, Apolonija Šušteršič, Temporary Services (USA) and Tadej Pogacar & Anja Planiscek, representing the way artists today think about structures and forms in contemporary cities.
Public Services presents five different starting points for engagement and five explicitly subjective approaches. These projects and creative proposals have been conceived as forms of immediate and physical intervention in the structure of the city, as social interaction, as a virtual utopian scheme. They represent a critical consideration of alternative models of public services, which, ideally, are founded on the principles of openness, access, equality, participation, mobility, adaptability, and transformativity.
When artists today think about structures and forms in the contemporary city, they think above all about the importance of open communication within urban structures. By occupying the space that lies between the many different city users, corporate capital (and its interests), and the urban structure, the[se projects] draw attention to processes of degradation and appropriation, borders between public and private, deindustrialization and precarity, while developing new public-service models based on participation, exchange, and solidarity.

Tadej Pogacar, curator Public Services
RELATED PUBLICATION: Public Services